Social Links Widget
Click here to edit the Social Media Links settings. This text will not be visible on the front end.

Some Highlights
As you get ready to sell your house, focus on tasks that make it inviting, show it's cared for, and boost your curb appeal.
This list will help you get started, but don't forget, a real estate professional will provide other helpful tips based on your specific situation.
Let's connect so you have advice on what you may want to do to get your house ready to sell this season.

If you're a homeowner, odds are your equity has grown significantly over the last few years as home prices skyrocketed and you made your monthly mortgage payments. Home equity builds over time and can help you achieve certain goals. According to the latest Equity Insights Report from CoreLogic, the average borrower with a home loan has almost $300,000 in equity right now.
As you weigh your options, especially in the face of inflation and talk of a recession, it's important to understand your assets and how you can leverage them. A real estate professional is the best resource to help you understand how much home equity you have and advise you on some of the ways you can use it.  Here are a few examples.
1. Buy a Home That Fits Your Needs
If you no longer have the space you need, it might be time to move into a larger home. Or it's possible you have too much space and need something smaller. No matter the situation, consider using your equity to power a move into a home that fits your changing lifestyle. 
If you want to upgrade your house, you can put your equity toward a down payment on the home of your dreams. And if you're planning to downsize, you may be surprised that your equity may cover some, if not all, of the cost of your next home. A real estate advisor can help you figure out how much equity you have and how you can use it toward the purchase of your next home.
2. Reinvest in Your Current House
According to a recent survey from Point, 39% of homeowners would invest in home improvement projects if they chose to access their equity. This is a great option if you want to change some things about your living space but you aren't ready to make a move just yet.
Home improvement projects allow you to customize your home to suit your needs and sense of style. Just remember to think ahead with any updates you make, as some renovations add more value to your home and are more likely to appeal to future buyers than others. For example, a report from the National Association of Realtors (NAR) shows refinishing or replacing wood flooring has a high cost recovery. Lean on a local professional for the best advice on which projects to invest in to get the greatest return on your investment when you sell.
3. Pursue Your Personal Goals
In addition to making a move or updating your house, home equity can also help you achieve the life goals you've dreamed of. That could mean investing in a new business venture, retiring or downsizing, or funding an education. While you shouldn't use your equity for unnecessary spending, leveraging it to start a business or putting it toward education costs can help you achieve other lifelong goals.
Bottom Line
Your equity can be a game changer. If you're unsure how much equity you have in your home, let's connect so you can start planning your next move.
A home warranty can help you save money—that much you know. But what questions should you ask to get the best one for your needs? We've got you covered with the questions below.
Pro tip: Remember that a home warranty is different from your homeowners insurance and works differently to protect your budget.
What is included in my home warranty?
Every home warranty is different, so it's important to understand exactly what the standard package covers. For example, some home warranties include washer and dryer coverage in a standard package, while others may offer it as an optional add-on or upgrade.
What upgrades do I need?
Understanding the standard package can help you determine what else you may need and see if those options are available from your home warranty. Ask about different packages, upgrades, and optional add-ons you might choose from, and ensure you understand the details of coverage for each.
How do I get a contractor for claims?
Depending on the home warranty company you select, there are three possible scenarios:
The home warranty company sends someone in their network to you.
The home warranty company provides you a list of people in their network to choose from.
The home warranty company gives you the freedom to choose any contractor you prefer that is licensed and bonded.
The first two possibilities provide you a contractor that is already working directly with the home warranty company. This means they are already aware of any requirements the home warranty may have, but because the contractor works for your home warranty, they may have limitations to how much they can work toward the benefit of the homeowner.
The third possibility gives you freedom to choose your own contractor, which allows you to:
Work with a true third-party representative (someone who works for you, not the home warranty company)
Work with someone you already know and trust
Schedule them at your convenience, which often results in faster visits
You may need to help your contractor understand the benefit of your home warranty—though your home warranty customer service may be able to assist.
How do approved claim payments work?
A home warranty can help pay for repairs or replacements for you: The key word here is 'help'.
It may not cover the entire cost of repair or replacement. Sometimes it can, and it often saves homeowners hundreds to thousands of dollars on claims. But it's a good idea to read through your contract and understand what limitations may be present.
You may have to pay up front and be reimbursed. Your home warranty may indeed have the option to pay your contractor directly for completed services, but it's a good idea to prepare for the possibility of paying up front and being reimbursed. You might ask, isn't the whole point of a home warranty to save you money? It still does! Just afterward, instead of before.
Ensure you ask what the payment process looks like, how long it typically takes, and what payment options are available to you.
What does the claims process look like?
Hopefully you never have to use it. But if (or more likely when) you do, knowing the claims process ahead of time can help you avoid unnecessary stress. We recommend keeping a printed copy of the claims process attached to your fridge or other visible spot so it's easy to find.
November 2, 2022 | By Cara L. Baker
Whether your gift list is a mile long or you're making a holiday feast large enough to feed the neighborhood, the holidays can be hectic. Want easy ways to avoid getting overwhelmed during the holidays? We're here to help!
Use the information below to keep your ducks in a row and pull off a phenomenal holiday season with less stress.
The second half of November: Getting started
You may start hearing Christmas music immediately after Halloween, but beginning your prep in the last 10-15 days of the month should give you ample time to prepare. Kick off your end-of-year errands with these tasks to lay the foundation for the weeks ahead.
Pro Tip: You don't have to get ready for the holidays all alone ­– save yourself some stress and ask for help! Whether it's handling daily tasks or helping out on the day of, they'll probably be happy to oblige.
Thanks-give yourself a list for everything
The first week of holiday prep will focus primarily on planning for Thanksgiving. Make a list of the following so everything and everyone can easily make it to your holiday table.
Meal ingredients and supplies (ice, a butane lighter for holiday candles, etc.)
A running guest count, including the number and age of any children attending
Activities for children, adults, and the whole family!
Who is responsible for bringing serving spoons, storage containers, drinks, etc.
Dietary restrictions and mobility concerns
Try seasonal menu planning 
This is meal planning with a twist: It focuses on dishes made with foods that are currently and regionally available. Seasonal menu planning offers many benefits, such as:
Helping you organize what you have to determine what you need
Focusing on exploring local, in-season ingredients and dishes
Opening the door for new family traditions
Stock up on holiday greeting cards
Holiday cards of all sorts are already available, which makes it easier to avoid an emergency trip to the nearest gas station or drugstore.
Keep a clear list of greeting card recipients on hand, and purchase cards, e-cards, and stamps early so you can skip long lines at the post office while still sending loved ones sweet thoughts they won't soon forget.
Give your home a full workup
The last few weeks of the year can be a blur. Set aside a few hours now to give your home a proper deep clean and check off these crucial tasks.
Look through your holiday home décor 
Before you display your indoor and outdoor winter decorations, inspect them for any broken or missing pieces, and see if décor used for one part of your home can't be repurposed elsewhere.
By taking inventory before putting them up, you can make one early trip to get what you need—saving you a last-minute trip for parts, replacements, or batteries.
The week of Thanksgiving: Game time
The guests are arriving, the sound of laughter fills the air, and the table will soon be set. Take these steps for lower stress and more enjoyable holiday meal preparations.
Begin food prep early
A couple days before you start cooking, clean your oven and create a cooking schedule, complete with a list of dishes, their corresponding chefs, and the appliances, pots, and utensils each dish needs.
Pro Tip: Use this same cooking schedule as a template for gatherings later in the holiday season.
To reduce overburdening your kitchen appliances, design the schedule to alternate between hot and cold dishes to allow your oven, stove, and dishwasher to rest.
Start gift shopping
The earlier you start, the less stressful it is – especially if you shop online! To save time and frustration, ask people what they'd like early, and make an organized list like Santa Claus.
Pro Tip: Get a handful of alternative gifts for hotly-requested items. This can help you stick to the budget by preventing overspending on impulse gifts.
The first half of December: You're on a roll!
You've officially made it through Thanksgiving. Now, the focus shifts to celebrations and gifts! Here are a few tips to help you tackle the next couple weeks of holiday events.
Simplify your life with bulk gift ideas
Your seasonal gift giving may include multiple gatherings with a host of family, neighbors, coworkers, and more. Prevent things from getting too complicated or expensive by buying or making gifts like these in bulk.
Holiday cookies or other desserts
Coffee
Infused oils or spice blends
Candles
Cold weather accessories, like mittens or ear bands
Make December easier with early holiday shopping
Getting gifts may encourage the whimsy of the season, but handling your Christmas shopping list in the first half of the month gives you more time to sit back and enjoy it.
Having all your gifts purchased and delivered early means you can also avoid longer lines, higher shipping costs, and items being out of stock — not to mention your gifts arriving after Christmas.
Set the tone by trimming the tree
Trimming the tree early in December's second half makes sure this focal point is ready on time, preventing last-minute frustration from broken ornaments and tangled lights. It'll be close enough to your main event to stay fresh and allow you to enjoy it.
Create a holiday playlist
Whether your event is an annual gift exchange among friends or a quiet holiday dinner with family, set the mood with the perfect holiday playlist to take your gathering to the next level. You can put together a mix of your family's favorite songs, or go the quick route by choosing one of several playlists that have already been curated.
Queue it up on the day of the event before guests arrive, and enjoy the ambience it sets for the rest of the night!
Keep your holiday party energy going
Many of us work during the holiday season. Avoid holiday burnout between functions by setting up the essentials for the influx of events.
Clean your party outfits, shoes, and coats, and keep them in an accessible area of your closet
Stock your fridge and cupboards with ingredients to make seasonal desserts.
Wrap your presents as soon as you bring them home, and keep a small box of wrapping supplies where you can wrap presents while you relax.
Keep your home feeling lively with winter foliage
Decorating with winter foliage, like the ones mentioned below, adds a beautiful, natural touch to your indoor winter decorations.
Winterberries
Black tulips
Winter jasmine
Glory of the snow
To ensure freshness during your holiday gathering, do not bring your seasonal foliage indoors until one to two days before your event. If you'll be stringing lights near your greenery, make sure your bulbs, cords, and electrical connections are intact and safe!
The second half of December: The home stretch
With just days remaining until the main event, it's time to focus on the essentials to pull everything together in time. Follow these tips to check off the most important tasks before your guests arrive.
Finish giving your home a winter clean
Once you've finished wrapping presents and putting up all the decorations, all that's left is to get your main living areas presentable. Put on your favorite holiday music and rock out as you give all the rooms your guests will visit a quick winter clean.
Divide preparations for your holiday feast
Break your holiday feast preparations into two lists: One for the night before and one for the morning of. By splitting the work, you reduce stress, frustration, and the likelihood of food ending up burnt, undercooked, or forgotten.
The night before your event, save time by preparing the foods that will keep well overnight, such as potato dishes or cold sides.
The morning of your feast, refer to the cooking assignment list you made earlier in the season, and use modern tech for an easier time before, during, and after preparing the meal.
Bonus tip: Holiday shipping made easy
Though shipping is a whole lot easier than dropping off gifts near and far (sound like someone you've heard of?), it can come with its own challenges. Follow the steps below to make holiday shipping a whole lot easier:
Review your contact info early to avoid gifts getting returned or sent to the wrong address
Check your local post office or delivery service location's holiday hours to plan accordingly
Save yourself gift wrap and tape by knowing which stores offer to wrap and ship presents
Armed with these tips, you'll have smoother sailing through your end-of-year festivities. Happy holidays!
November 22, 2022 | By Cara L. Baker

Each year, homeowners planning to make a move are faced with a decision: sell their house during the holidays or wait. And others who have already listed their homes may think about removing their listings and waiting until the new year to go back on the market.
The truth is many buyers want to purchase a home for the holidays, and your house might be just what they're looking for. Here are five great reasons you shouldn't wait to sell your house.
1. While the supply of homes for sale has increased this year, there still aren't enough homes on the market to keep up with buyer demand. As Nadia Evangelou, Senior Economist & Director of Forecasting at the National Association of Realtors (NAR), explains:
"There's still this gap between demand and supply because we were underbuilding for many years. . . . So now we see demand is slowing, but it still outpaces supply."
2. Serious homebuyers are out looking right now. Millennials are driving homebuying demand today, and many are eager to make a purchase. Mark Fleming, Chief Economist at First American, explains:
"While not the frenzy of 2021, the largest living generation, the Millennials, will continue to age into their prime home-buying years, creating a demographic tailwind for the housing market."
3. The desire to own a home doesn't stop during the holidays. In fact, homes decorated for the holidays appeal to many buyers. Plus, purchasers who look for homes during the holidays are ready to buy.
4. You can restrict the showings in your house to days and times that are most convenient for you. That can help you minimize disruptions, which is especially important this time of year.
5. Rents have skyrocketed in recent years. And, many buyers are looking to escape rising rents and avoid falling into the rental trap for another year. As an article from Zillow says:
"Over the next 12 months, rents are expected to grow more than inflation, the stock market and home values."
Your home could be their ticket to leaving renting behind for good.
Bottom Line
There are still many reasons it makes sense to list your house during the holiday season. Let's connect to determine if selling now is your best move.

Some Highlights
While there are many financial perks to owning a home, there are also powerful non-financial benefits to consider if you're thinking about making a move.
Homeownership allows you to express yourself, gives you greater privacy and comfort, enhances your connection to your community and loved ones, and is an achievement to feel proud of.
Let's connect today to discuss all that homeownership has to offer.
If you've set out to buy a home, you're likely balancing your own needs with higher mortgage rates and today's home prices. That can feel challenging. But know that making a purchase today can pay off in the long run as you build your net worth through equity.

If you're thinking about buying a home, you're likely trying to juggle your needs, current mortgage rates, home prices, your schedule, and more to try to decide if you want to jump into the market.
If this sounds like you, here's one key factor that could help you with your decision: there are more homes for sale today than there were at this time last year. According to Calculated Risk, for the week ending in November 18th, there were 47.7% more homes available for sale than there were at the same time in 2021. And having more options for your home search may be exactly what you need to feel confident about making a move.
Here's a look at where the increased housing supply is coming from so you can get a better sense of what's happening in the market today and what it means for you.
What Caused the Growth in Housing Inventory This Year?
The increase we've seen in housing supply this year isn't from the source you think it is. Rather than an influx of recent homeowners listing their houses for sale (known as new listings), the primary reason the supply has grown is because homes are staying on the market a bit longer (known as active listings).
That's happening because higher mortgage rates and home prices have helped moderate the peak frenzy of buyer demand, which has slowed down the pace of sales. And, as the pace of sales has eased, inventory has grown as a result.
The graph below uses data from realtor.com to show that it's active listings, not new listings, that have driven the growth we've seen over the past few months: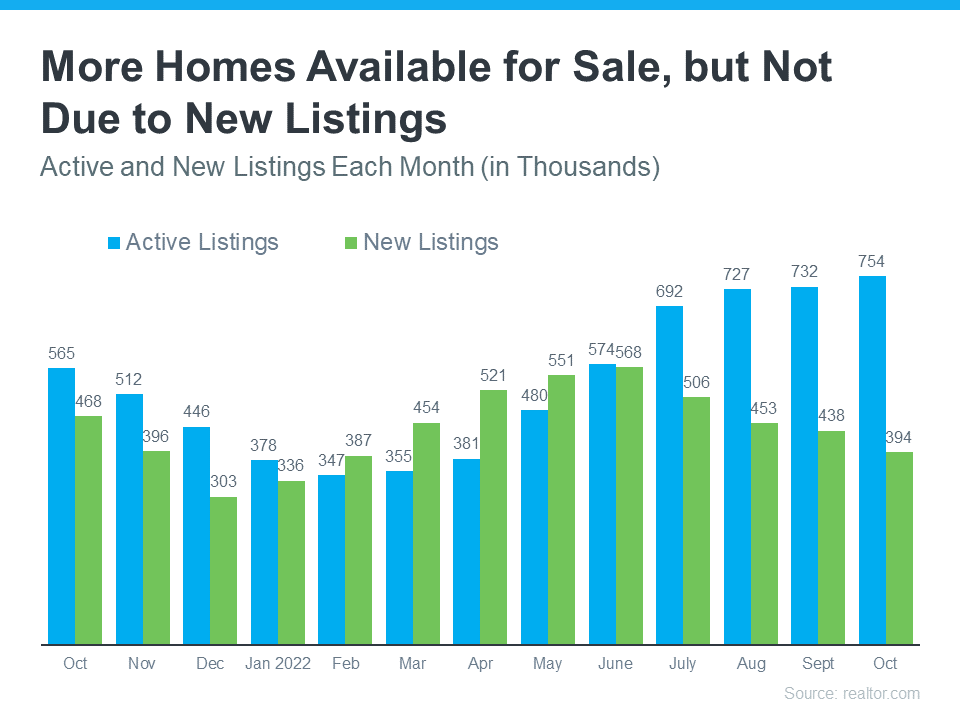 And while overall inventory gains may slow down this winter due to typical housing market seasonality, you still have a chance to capitalize on the current supply.
What This Means for Your Home Search
Regardless of the source, the increase in available housing supply is good for buyers. More homes available for sale means you have more options to choose from as you search for your next home, and you may even have more time to consider them.
So, if you tried to buy a home last year and lost out in a bidding war or just couldn't find something you liked, this may be the news you've been waiting for. If you start your search today, those additional options should make it less difficult to find a home you love, especially as some other buyers pause their search this holiday season.
Just remember, housing supply is still low overall, so it won't suddenly be easy – it'll just be less challenging than it was at this time last year. As a recent article from realtor.com says:
"Despite this improvement in the number of homes actively for sale, active listings still lag their pre-pandemic levels."
The increase in housing supply helps put you in a great position to kick off the new year in your dream home. And who better to help you find it than a trusted, local real estate professional?
Bottom Line
If you're ready to jump into the housing market and see what's available in our local area, let's connect.

If you're thinking of buying a home and living with siblings, parents, or grandparents, then multigenerational living may be for you. The Pew Research Center defines a multigenerational household as a home with two or more adult generations. And the number of individuals choosing multigenerational living has increased over the past 50 years.
As you consider this option for your own home search, know it could help you on your homeownership journey and provide you with other incredible benefits along the way.
Living with Loved Ones Could Help You Achieve Your Homeownership Goals
There are several reasons people choose to live in a multigenerational household, and for many, the arrangement is a personal one. But according to the Pew Research Center, the top reason people choose to live together today is financial.
A recent study from Freddie Mac also finds more people are choosing to buy a home together so they can save money in the homebuying process. As the study says:
". . . an increasing percentage of young adult first-time homebuyers are relying on support from older generations, including their parents, to buy a home together."
For these individuals, combining their resources can help them achieve their dream of buying and owning a home. By pooling their incomes together to make that purchase, they may be able to afford a home they couldn't on their own.
Other Key Benefits of Multigenerational Living
Not to mention, living in a home with loved ones can have other benefits too, like giving you more quality time to spend together. Darla Mercado, Certified Financial Planner and Markets Editor for CNBC.com, explains how this living arrangement can help on a personal and financial level:
"Residing with relatives can offer advantages . . . you can pool multiple streams of income, for instance. And in households with young children, grandparents can pitch in with child care."
If this sounds like a great option for you, it's important to work with a trusted real estate professional to discuss your needs. They can help you navigate the process to find the right home for you and your loved ones.
Bottom Line
More people are discovering the benefits of multigenerational living. For the best information and help deciding what's right for your personal situation, let's connect and start the conversation today.

Some Highlights
You may be wondering what needs to be renovated before you sell your house. In today's shifting market, making your house appealing is more important than ever.
That's why it's essential to lean on a real estate professional who has in-depth knowledge of today's housing market. They know what buyers are looking for and how to highlight any upgrades you make.
Let's connect so you know where to focus your efforts so your house will stand out in a today's market.